A company specialises in risk management by providing security services.
From the accurate and thorough analysis of individual sectors of industry and services, we process data and develop state-of-the-art solutions and systems to define strategic and integrated security models for companies. We plan risk reduction and mitigation tools for our customers to prevent risks, understand their potential impacts and reduce their effects. We develop security solutions that foresee and perceive threats from the internal and external environment and adopt the best options to ensure business continuity.
MANAGEMENT
"Security is a widespread process that cuts across the different business areas of organisations. In this day and age, more than ever, we are in a labyrinth with no boundaries, where everything flows at great speed, physical and virtual spaces intersect to the point of almost annulling all perimeters".
Giuseppe Calabrese, CEO
A SECURITY TEAM
Catering to the needs of their customers, Secursat has a team of professionals certified in accordance with the UNI CEI EN 10459 standard and detective analysts to carry out comprehensive risk assessments and analyses. A team of digital enthusiasts, able to combine traditional, criminological and technological skills, with the aim of designing and implementing security processes and services, mapping all types of risk for companies and people.
Discover the Team
A TECHNOLOGY GOVERNANCE HUB
Security Operation Centres (SOCs) certified in accordance with the UNI CEI EN 50518 standard and a Service & Maintenance Business Unit comprising 20 resources, through which we carry out monitoring activities and integrated remote management of plants and security system on a 24- hour basis. We use open and integrated platforms operating on the netword, in the cloud, virtualised and digitalised. We operate in the remote management and remote assistance of network infrastructures, implementing, designing and maintaining complex security and safety systems, capable of operating in an integrated manner according to the most cutting- edge logic of scalability and security.
Discover the Hub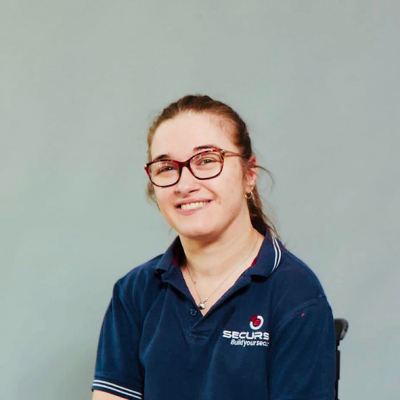 Service & Maintence
Stella Ruka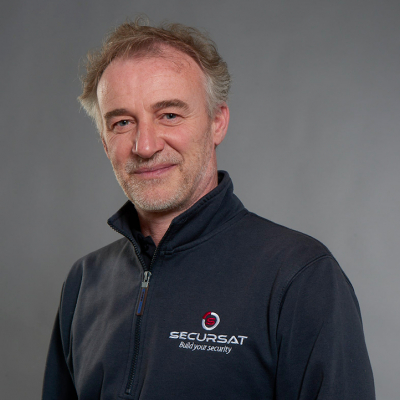 Technical Support
Emiliano Getti
---
MISSION & VISION
Our mission is to convey the important strategic value of security for communities, companies and organisations. this is done by overturning the traditional concept of security, redesigning it within a broder concept of business protection and process governance.
In a perimeter-free political and economic evolution where scenarios are changing and geopolitics are charting news paths, Secursat interprets security as a protective umbrella for the business as a whole.
According to our view, a virtuous use of technology assists organisation to create stretegies based on the digitisation of activities, the collection and processing of tangible and relevant data, the reduction of mobility in support of sustainable development policies, toraise the security levels of people, goods, places and data in an modern and competent way.
"Ethical and sustainable business is our key driver for business development". Giuseppe Calabrese
---
CERTIFICATIONS
Secursat demonstretes its corporate responsability through the acquisition of certifications that ensure our professionals work compliace, system, processes and services that meet the requirements set by national and international norms and standards.
UNI - EN - ISO 9001:2015 Certifications
Certification attesting that Secursat's system complies with the UNI EN ISO 9001:2015 standard in relation to consultancy, design and provision of security services and systems: remote surveillance services, installation and assistance, service management brokerage, corporate security.
SOA Certification
Certifies the qualification issued to Secursat for the execution of public works (pursuant to D.P.R 207/2010)
UNI - 10459:2017 - European Qualification Framework (EQF) 2008/C111/01
Secursat has certified professionals in its organisation who are recognised as having the knowledge, competence, skills and expertise to ensure the overall management of security processes.
UNI - CEI - EN 50518
Certification attesting that the alarm monitoring and centre for alarm receiving signal complies with the UNI CEI EN 50518 1/2/3:2014 standard.
UNI - 10891:2000
Certification attesting that Secursat's services comply with the UNI 10891:2000 standard for the functional class of services of: Receiving and management of signals from CCTV and remote surveillance systems, alarm intervention management.
Authorisation D.M. 269/10 e ss.mm.ii
Disciplines the characteristics and requirements for the performance of security services and activities in functional class B - receiving and management of signals from remote surveillance and remote monitoring systems. National territory.
Authotisation art. 115 ai sensi del t.u.l.p.s.
Authorisation of networking activities for the management of security services.
Certification ISO 14001:2015
Certification demonstrating that Secursat operates an effective internal Environmental Management System in accordance with the international standard.
Certification ISO 45001:20118
Certification demonstrating that Secursat operates effectively using its own internal Occupational Safety Management System, in accordance with the international standard.
Assistenza Bot