Digitizing tickets on the cloud: Securweb 4.0
Organize and manage cloud security
The digital transformation processes impose a profound process of transformation and change on companies and institutions; technology represents an increasingly important element in the reorientation of costs, activities and skills within a general framework of efficiency.
Secursat, in consideration of the new needs of the competitive context, has made the 4.0 version of Securweb operational, a cloud platform to manage in an organic and orderly way the technical assistance activities and the services connected to security, safety and facility. Securweb 4.0 allows you to organize information through the creation of computer tickets, associating the activities to the different systems, personal data, stocks and service providers, thus allowing the monitoring of the status of the interventions and the costs associated with the activities with automatic reports and analysis activities.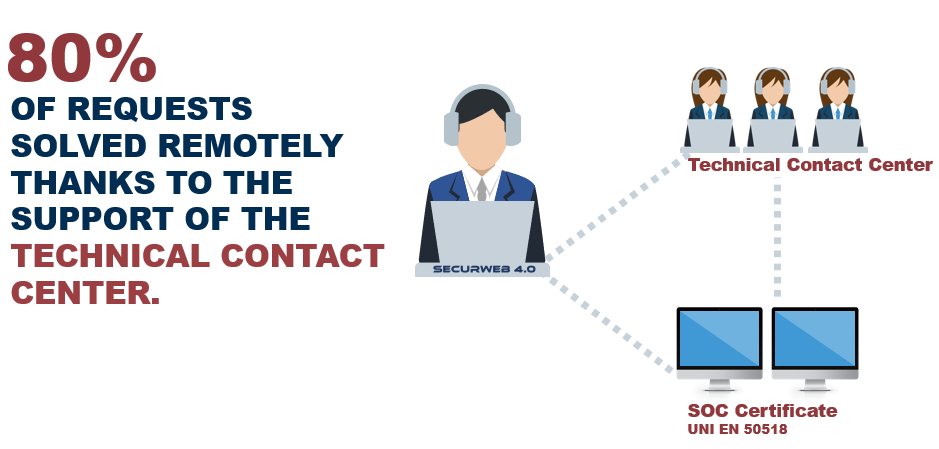 Through Securweb 4.0 it is not only possible to plan services and standardize behaviors, but also to obtain reports and alerts on reports and / or events, manage tickets through real-time acquisition of intervention requests and execution confirmations, monitoring SLAs and contractual KPIs in a simple, intuitive and easy to share way.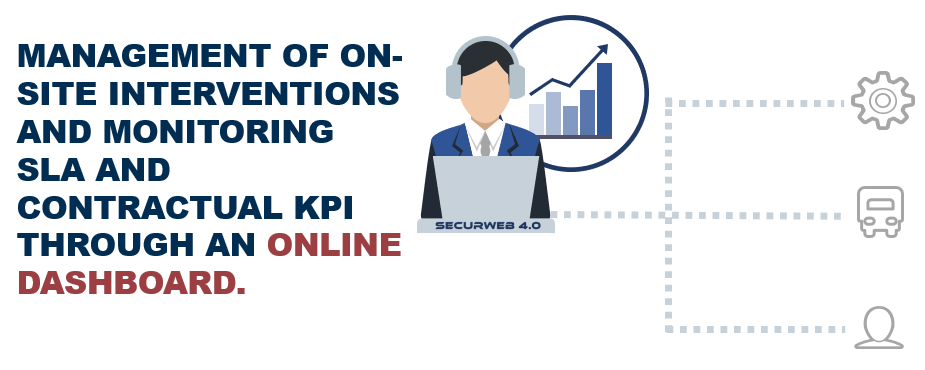 Furthermore, through Securweb 4.0 Secursat, with the help of a technical Concact Center supported by certified SOCs, manages the ordinary and extraordinary maintenance activities on security systems but not only, and the surveillance requests for its customers for over 4,800 sites in Italy, guaranteeing the management of operations according to high levels of effectiveness and efficiency, and remotely solving up to 80% of customer requests.
Finally, with Securweb 4.0, the Concact Center plans and manages remote routine maintenance activities, coordinating on-line testing and screening activities, limiting unnecessary on-site interventions and optimizing the overall security management model.
It is therefore not a question of a model that prefers technology but rather a reorganization of activities where human knowledge is left with the burden of developing strategies and models, and technology is instead reserved the role of supporting the reorganization of activities and consisting of data to be analyzed, to create a security function, as a protective umbrella of the business in general, essential for the protection of assets but also for guaranteeing business continuity.